Okay ladies and gents, we're onto week 3 of The Bachelorette, which means producers are comfortable enough sprinkling in B-list celebrity couples and weird sponsored content into Hannah's search for love, and that's exactly what we got.
We get thrown right into the first group date, which is a bizarre lesson on babies with the guy from American Pie and his wife…. seriously WHO is writing up these dates at ABC? After some questions about the female anatomy, that everyone fails miserably at, the guys are given labor simulation. It's the only redeeming quality of the date because I  got a sick pleasure out of watching John Paul Jones basically sit in an electric chair.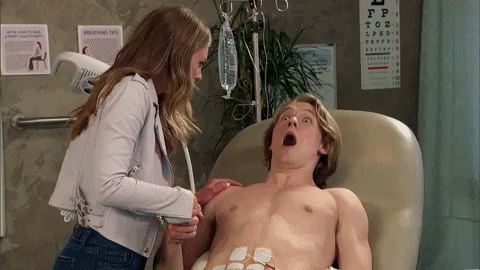 During the cocktail hour, Cam (and his blazer/hoodie combo) decide to be literally the most annoying human in the world while Mike receives the group date rose. For as much as I   don't like her, she is good at picking the right person for the group date rose, thus far.
The following day, we're simply shown a random ambluence and then a quick clip of Hannah getting an IV of fluid, and not like those ones that influencers get in Miami after a night out. Her one-on-one date with Connor S. quickly turns into him running to the grocery store to get her soup and some cheap flowers. She says she woke up and immediately "passed out"…. you mean you fell back asleep? It was unclear, but I'm assuming the boat/helicpopter/limo driver of the day had to cancel and they needed an excuse.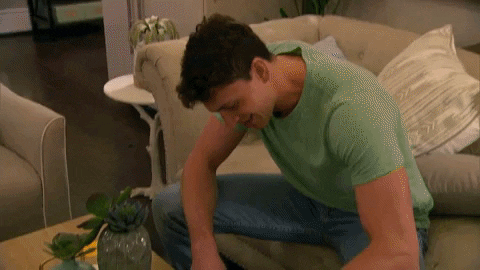 …a post-it on a house plant….how romantic
She needs her rest so Connor leaves but on his way out, writes in chicken scratch all of his favorite qualities about her on post-its. She later finds them and loves the attention so much, she brings him back out for a completely planned surprise concert of Lukas Graham (who has one of the most annoying voices IMO)  and he gets a rose.
At the second group date, it's another ANTM homage with a photoshoot, with some Zoolander ripoff "creative director" but we're quickly reminded that they're shooting with animals because SECRET LIFE OF PETS 2 debuts in theaters on June 7! Don't get me wrong, I  love a good animated movie about animals, but this was just a CHEAP move on everyone's part.
Another cheap move…. Luke being a psycho controlling boyfriend the entire photoshoot and well into the cocktail portion. Finally Hannah started to realize Luke has no chill and he's quickly cock blocked by everyone including her. The pilot gets the group date rose, but only after using every cheesy pilot pun he can.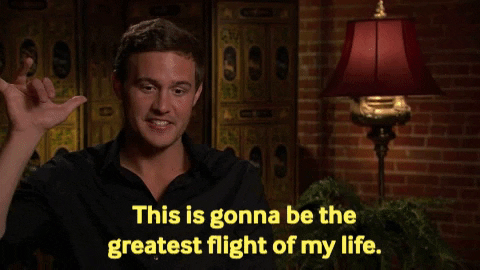 please make it stop
The next day, Chris Harrison tells the boys it's time for a tailgate in lieu of a cocktail party, and they all start to orgasm at the idea of playing corn hole. It's during this outing that Cam goes for a "pity rose" by telling Hannah about this possible amputation/grandparent dying/giving up a 10 month old puppy saga and it almost works until Mike snitches on him.
Before Cam's elimination (thank god), Hannah does delivery a subtle read, a skill she's actually quite good at.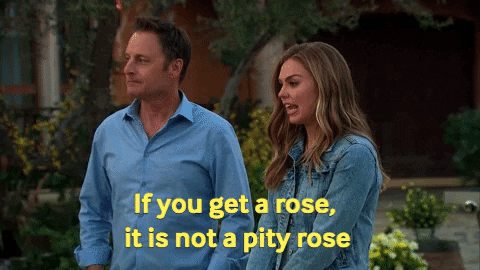 So no pity here, and we're rewarded for our troubles with a clip for next week and the season. I  will say, based off what's to come, Hannah has more drama in one hair extension than Becca had in her entire body, she knows what the viewers want.
Role Tide err… Chicken Nugget Count: Seriously, why are Chicken Nuggets getting this much air time?! Not that I'm complaining, but let's get a Chick-Fil-A sponsored date, not Secret Life of Pets 2.
 Rose: I  love a good snitch, so Mike's willingness to throw Cam right under the bus is a great reason to keep her around longer
Thorn: The fact that Hannah just causally throws out that Tyler G. (the lego block head who got the first one-on one) "had to leave" this week and we get no explanation. Some online articles are saying he's a PSYCHO but I'd love to confirm that STAT
Next week it looks like they head to Boston and Jed gets a One-on-one date… so you know I'll be there.
Until then,
TW