If you follow me on Instagram, you'd know that I'm quite the connoisseur of The Bachelor. Of all of the reality shows I  watch, The Bachelor is perhaps the most deluded. I've been watching this garbage off and on since it started, backed in 2002. So yes, I  was consuming all of these unhealthy relationships and scripted drama since I was in 2nd grade. (probably explains a lot, now that I think about it)
Over the past few seasons of The Bachelor, Bachelorette and Bachelor in Paradise, I've been chronicling my thoughts on each episode via Instagram stories. I've decided trying a weekly recap would be a fun way to channel all of my thoughts of my favorite love to hate program! As mentioned on IG, these thoughts are meant as a fun diversion from a ridiculous show, not to be taken seriously. So let's begin shall we:
Introducing: Colton's Season: Episode 1: Waste Management 
The beginning of a new season means our favorite trash collector (in our case, Chris Harrison) introduces us to 30 new try-hards and wanna be's vying for a former reject, so it's only fitting that with all this new garbage, we title this premiere Waste Management.
We're greeted by Chris Harrison, letting us know that this torture premiere is THREE HOURS. The longer these are, the more b.s. footage of former constants, clips from pasts seasons and in this case, cuts to my least favorite couples (Ashley I. and Jared & Krystal and "Goose") we are given. Seriously, I'm here to start roasting first looks, not Krystal's weird bathhouse fantasies. (vomit)
Krystal: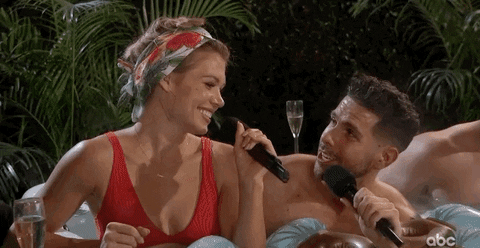 Me: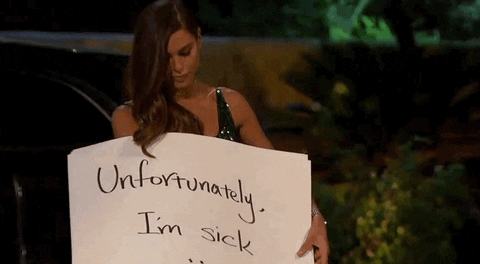 It takes us almost a FULL HOUR until we get to the first night at the mansion, but before that, we get some b-roll of a handful of the women. First, Cassie, a speech pathologist, who is definitely on the Fab Fit Fun box fast track, a dental hygienist (because of course), a Miss Alabama (over her already) and my favorite from this bunch, Demi…. a Raven/Tia hybrid with a OITNB twist. During her interview she gets a quick call from prison from her mom, in the joint for embezzlement, but never fear, she may see her if she gets out in time for hometowns. WE CAN ONLY HOPE!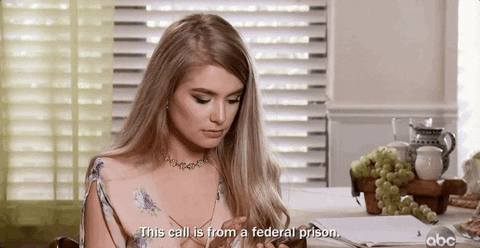 We're then given b-roll on Colton, showering, throwing around a medicine ball and letting us know that he:
was in love with Becca (total lie)
A chubby child (….Colton, I'm still chubby, STFU)
and last but not least… a virgin… a plot point that we already know will be played out to death
We've established the players, now let's get to the game. Of course, the coveted spot is the first limo exit. In seasons past, front runners, future bachelorettes and winners usually step out first. So as much as I  hate myself, I  waited on baited breath to see… and we get…… DEMI?!?! WTF, this is a complete shock and so is her little $450 banana yellow Sherri Hill crop top piece… (yes, I googled her outfit)
Honestly, no one is standing out, and the limo reveals go fast. Caelynn (who I'm certain is a future shit stirrer) wants to go from Miss North Carolina to Miss Underwood…. you mean, Mrs. but… we'll look past that. My least favorite look by FAR is Kirpa's. See this Dillard's ensemble below:
Back to the rest of the drivel; we get a sloth and a few more poorly planned out virgin puns. I can tell both Hannahs will do well, and at this point, if I see one more 23 year old come out of the car, I'm gonna lose it. Colton finally gets his cocktail and the first one to "steal him for second" is DEMI.. she is working for it.
The only people standing out during the cocktail hour are Hannah G, who I'm calling content creator barbie for now, as within the 3 hours the show was on, gained 40k Instagram followers(GOALS), both pageant girls and of course, Catherine. Despite Oneyka's attempts to be "honest" with her, Catherine takes him away 4 times. Making enemies fast I  see! She is definitely our resident villain who is part Corinne and part Krystal. I'm sure her delusional behavior will make us love her more when she inevitably goes to paradise this summer.
Before the rose ceremony, Hannah G. gets the first impression rose. Which is only a little surprising because usually the Bachelor picks one of the aggressive future villains. (think Olivia Caridi or Britt) but Hannah G. is probably here for the long haul.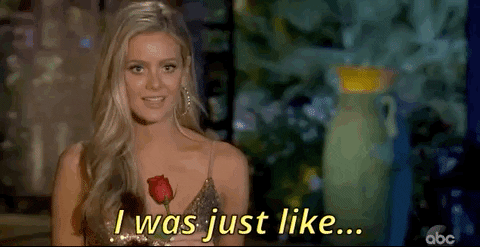 … and I  was like….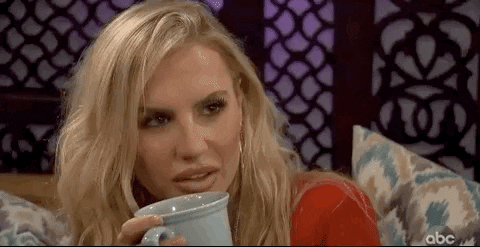 To no surprise, Catherine is the last girl called before the sun fully sets and then rises on night one. We get treated to a second extended trailer of the season which has more footage of crying, Colton walking on snow covered mountains and then more virginity talk.
Each week I'll be doing a rose (favorite girl) and thorn (least favorite moment) and just for Colton, a Virgin word counter:
Virgin said:  25 times, but this seems low, I lost count
Rose: Katie, the sales rep, who seems like she actually has substance, which means she will definitely be eliminated in the next 2-3 weeks, and he'll say "I  just wish we had more time to get to know each other"
Thorn: This unnecessary fan viewing party footage, more specifically this crack head who loves Ben Higgins.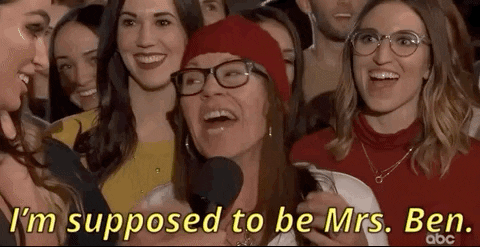 No you're not….
With that said, night one is over and I'll be back next week to recap what I'm sure will be the MOST DRAMATIC season yet! Check out my instagram stories during and after each episode for more! Comment below on your thoughts on your initial thoughts on this season.
Happy watching!
TW